Start a Conversation
Hi! Prakash is waiting to talk with you! Let's chat on WhatsApp
The team typically replies in a few minutes.
Pancakeswap Clone Script - To Start DeFi DEX on Binance Smart Chain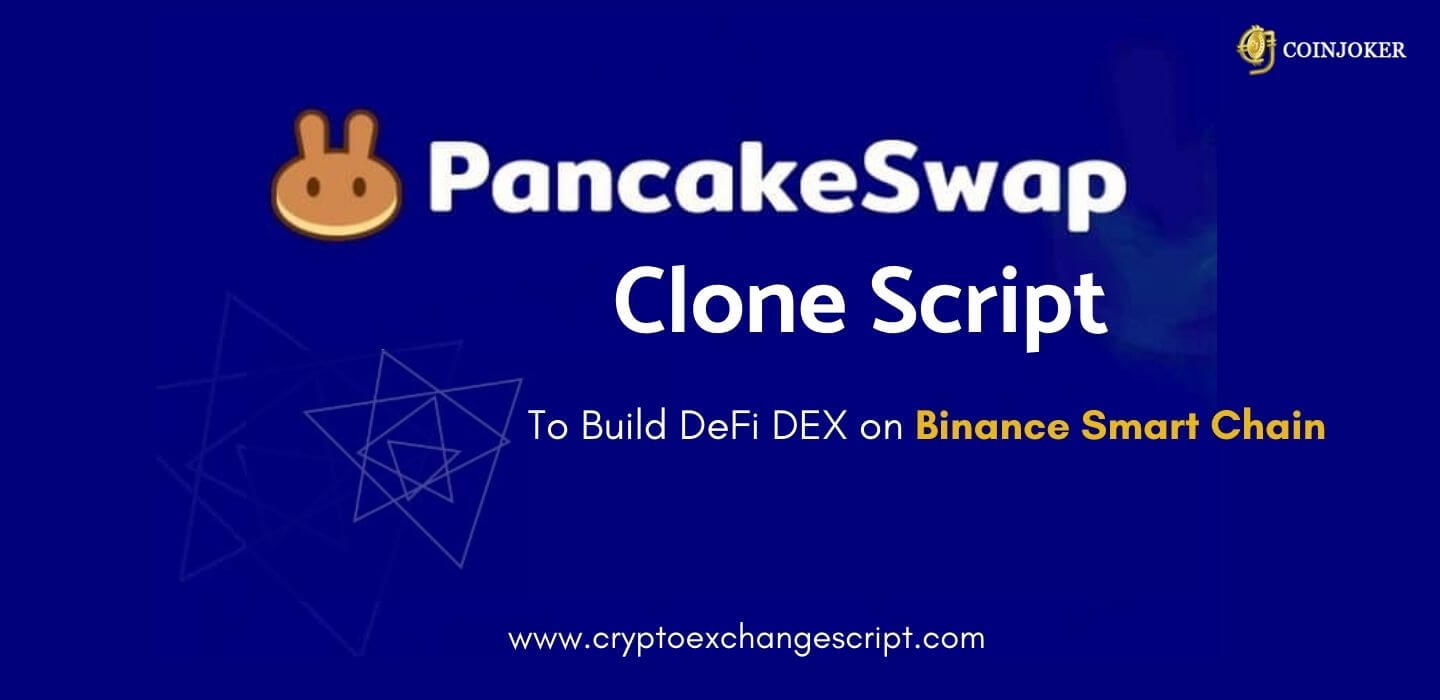 PancakeSwap Clone Script
PancakeSwap Clone Script is a white label decentralized exchange script built on Binance Smart Chain (BSC) for swapping BEP-20 tokens similar to pancakeswap. It process with liquidity pools where your crypto users can earn fees from staking, lending, and yield farming and lottery ticket options. PancakeSwap clone script is built with an Automated Market Maker (AMM) and Decentralized Application (dApp) for quicker and cheaper transactions for users like pancakeswap.
PancakeSwap Clone Software
PankcakeSwap Clone Software is a fork of Uniswap protocol built on Binance Smart Chain for earning rewards from yield farming and crypto staking to lottery and NFTs attracts with lower fees, around $0.10 per transaction.
Coinjoker a leading defi development company offers packcakeswap clone software as a 100% ready made and white label solutions which works similar to the pancake with a familiar layout and user interface.
Pancakeswap Clone Script Features
Coinjoker' pancakeswap clone script offers unlimited features to solve to enhance your business platform more than enough.
Top Performing Tokens
Minimal Part Fee
Individual Transaction History
Quick Audits Per Second
Integrated Security Protocols
Top Performing Tokens
Automated Market Making
Top Performing Pairs
Farming & Staking
Pancakeswap clone script enhances farming by holding cryptos in pools to provide liquidity for other crypto traders, and the platform rewards them with CAKE tokens. Many LP tokens are supported for yield farming. Some of the most popular ones are:
CAKE – BNB LP
BUSD – BNB LP
BETH – ETH LP
USDT – BUSD LP
USDC – BUSD LP
DAI – BUSD LP
LINK – BUSD LP
TWT – BNB LP
Staking is the other opportunity to earn from your holdings in PancakeSwap. You can stake your CAKE tokens in SYRUP pools and earn other tokens.
Exchange
PancakeSwap clone script is built with exchange based on the AMM model. Automated market makers remove order books from trading processes. PancakeSwap is not limited to swapping and trading.
Lottery
Users who have received CAKE tokens from farming or another way can participate in lotteries on PancakeSwap. You need at least 1 CAKE tokens to participate in lotteries on the exchange.
Non Fungible Tokens (NFT)
Pankcake clone script is added with Non-fungible-tokens or NFTs are popular tokens in the cryptocurrency world. You can win them in the PancakeSwap exchange. When you win an NFT, you can trade it with CAKE tokens.
IFOs
Initial Farm Offerings (IFO) are a way to get a newly launched token in the hands of users using the power of yield farming.
Get A Free Live Demo of PancakeSwap Clone Script
How our Pancakeswap Clone Script works?
Pancakeswap clone script is worked by the process of automated market maker (AMM) tool which matches buy and sell orders directly with other accounts in a liquidity pool. User deposits cryptos which maintains in liquidity pools. By providing liquidity to such a pool, your crypto users can earn trading fees and liquidity provider (LP) tokens. LP tokes are redeemable for the initial capital deposited, plus any fees earned, minus any impermanent loss.
Video Explanation of Pancakeswap Clone Script>>
Pancakeswap Token
Pancakeswap Tokens are developed based on the DeFi protocol can be traded and transferred using smart contracts on Binance Smart Chain.
PancakeSwap clone script works using smart contracts too. So, staking, trading, and swapping tokens on the defi based decentralzied exchange is managed by smart contracts.
Pancakeswap Clone Script Services
Besides we provide pancakeswap clone script end-end services to enlight your business through the lifetime
1. Farming
2. Bridging
3. Staking
4. Lottery Scheme
5. Smart contract audit services
6. NFT development
Pancakeswap Clone Script API's
Check out the list of API's what we provide for pancakeswap clone development to run your exchange platform effectively
Smart Contract Integration
Crypto Wallet Integration
Payment Gateway Support
Privacy and Identity
Blockchain Consensus Mechanisms
Liquidity API's
Security API's
Exchange API's
Swap Mechanisms and more
PancakeSwap VS UniSwap / SushiSwap /Aave
PancakeSwap has many similarities to other DeFi platforms like uniswap, sushiswap and aave. It offers decentralized exchange and the chance to yield farm or stake your crypto tokens.
The major significant difference is that PancakeSwap doesn't run on Ethereum and uses Binance Smart Chain as the underlying blockchain, so the commissions are much lower.
It also offers additional features like lottery and NFT that may attract more users.
PancakeSwap clone script supported wallets
Coinjoker's PancakeSwap clone script supports MetaMask, Trust Wallet, TokenPocket, MathWallet and WalletConnect. As an admin you need to set up MetaMask for Binance Smart Chain to be able to make transactions on PancakeSwap using MetaMask.
Fees Structure of Pancakeswap clone script
Pancakeswap clone script is built like the trading fee on PancakeSwap is 0.2%. 0.17% goes to liquidity providers and the rest, 0.03%, goes to PancakeSwap Treasury which are burnt.
What can you do with PancakeSwap Clone Script?
PancakeSwap clone script is used to trade BEP20 tokens and earn cryptocurrencies through staking and providing liquidity.
You can do the following on PancakeSwap:
Trade BEP20 tokens
Provide liquidity to the exchange and earn fees
Stake your LP (liquidity provider) tokens to earn CAKE token
Stake CAKE to earn more CAKE
Stake CAKE to earn tokens of other projects
Why to build pancakeswap clone script on binance smart chain?
While building DeFi projects on Ethereum regarding high gas fees, speed, and network congestion. Several factors are being address to the issue through scaling and interoperability in Ethereum 2.0
Blockchains platforms like binance smart chain consume lower transaction fees and less saturation. BSC has considerably lower fees than Ethereum, lowering the barrier of entry for adoption while creating a cost-effective and secure platform for building dApps!
Where to start Defi exchange platform like pakecakeswap?
Coinjoker - Top pioneer in Defi development services offers pancakeswap clone script on blockchain platform which enhances your business with high performance and production.
We have 150+ blockchain developers has well experience in creating blockahin solutions on decentralized exchange platforms like binance smart chain. By the way they have strong knowledge of who can create a DeFi decentralized exchange like PancakeSwap along with current updated features. Hire our blockchain developers and build your DeFi exchange platform successfully.
Exclusive NFT Token Development
Advanced APIs
On-Time delivery
Maintenance
Post-delivery support
Smart mobile apps development
Ready made & Customized Solutions
Get A Free Live Demo of Pancakeswap Clone Script
Tags :
pancakeswap clone software
pancakeswap clone development
pancakeswap clone script
Pancakeswap Clone Script - FAQ's
PancakeSwap clone script is a decentralized exchange (DEX) powered script built on Binance Smart Chain (BSC), which uses an AMM (automated market maker) model to fulfill orders by swapping BEP-20 tokens. PancakeSwap clone script replaces an order book with a liquidity pool similar to pancakeswap.
PancakeSwap clone script works as an AMMs which don't rely on an order book to match buyers and sellers instead you trade against liquidity pool. AMMs provide better rates, speed, and reduce slippage while swapping tokens, or add liquidity and earn rewards.
Pancakeswap clone script is built with the following components which makes to earn yields without any difficulties
CAKE Token
Syrup Pools
Cake Lottery
Non-Fungible Tokens (NFT)
Initial Farm Offerings (IFO)
Farming
Staking
Binance Bridge
Pancakeswap Wallet
Coinjoker list some of the advantages of pancakeswap clone script while DeFi DEX exchange similar to pancakeswap
Earn more Tokens using Syrup pools
Low Fees and Fast Transactions using BEP20 Tokens
No KYC Requirement
Completely Audited and Secured
Cost-effective alternative to users
Easy To Use
Create new income streams
Have Deflationary protocols to maintain token's value
PancakeSwap clone script is a decentralized exchange built on Binance Smart Chain, a fast and inexpensive alternative to Ethereum.
Binance Smart Chain is way cheaper to use than Ethereum
Binance Smart Chain, a high-throughput blockchain built by Binance to compete with Ethereum.
If you want to trade ERC-20 tokens on PancakeSwap, you'll need to wrap them on the Binance Bridge to turn them into BEP-20 assets
Coinjoker a leading defi development company offers ready to deploy and white label pancakeswap clone script. You can start defi exchange like pancakeswap from the scratch within 7 days.