Localbitcoins Clone Script
Start P2P crypto exchange with our whitelabel localbitcoins clone script by our tremendous features like escrow, over the counter (OTC), 2FA, post ads/request, 60+ different payment methods like localbitcoins.
LocalBitcoins – Escrow Based P2P Crypto Exchange Platform
LocalBitcoins.com is specialized for buy and sell cryptocurrencies instantly on peer to peer method for the traders from different countries. This is the first site which allows users to post advertisements there they can show the exchange rate and payment options for exchanging cryptos.
We offer full packed, highly secure localbitcoins clone script where you can see the functionalities present in localbitcoins, addition you can get the extra options and customized admin panel in the name of whitelabel solutions.
Coinjoker provides highly robust and reliable localbitcoins p2p exchange clone script which is developed by our 10+ years experienced professionals by getting the feedback from our valuable clients.
Connect With WhatsApp Connect With WhatsApp Connect With Telegram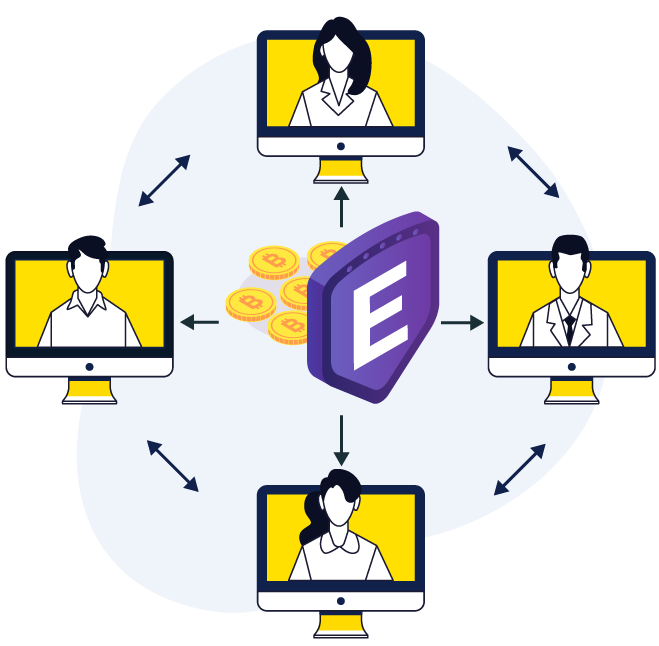 Elite Features Of Our Buy/Sell Local bitcoin Clone Script
Feedback system
Web notifications
History of Logins
Cryptocurrency Wallet
Showcase Ads
Multilanguage Support
Multiple payment support
IEO/Launch Pad support
Liquidity Providing
Over The Counter (OTC) trading
Referral Trading
Dynamic and floating price display
Security Features of Localbitcoins Crypto Exchange Clone Script
Escrow application
Two factor Authentication
Login Guard
Multisignature Wallet
AML/KYC support
Cutting Edge blockchain solutions
Revenue Generating Tools in Our Localbitcoins Clone Script
Initial Coin Offering (ICO)
How Localbitcoins Clone Scripts Works ?
Coinjoker's Localbitcoins clone script is involved in the process of developing a bitcoin exchange/trading platform inspired by the existing websites with customized designs.
Benefits Of Localbitcoins Clone Script
The fastest way to trade bitcoins

Peer to Peer trading platform

Escrow protection- For safer trading between buyer and seller

Automated Trading

Updated pricing system
Full Featured Bitcoin Escrow Services
Our escrow is acts as a middleman who holds bitcoins safely until the conditions are met between traders. It provides convenient for buyers and sellers to give security for cryptocurrency trading. Our services prevent big mistake of losing bitcoins from the traders during your crypto exchange. Our bitcoin escrow service provides extra pair of eyes in your bottleneck situations.
Connect With WhatsApp Connect With WhatsApp Connect With Telegram
Why Entrepreneurs Need To Start Crypto Exchange Like Localbitcoins?
Since the P2P bitcoin exchange business involves connecting with people directly, if it is not handled properly can lead the user's privacy and safety at risk. By considering this, our business-ready LocalBitcoins Clone Script was built to incorporate with safety features. Thus the LocalBitcoins Clone Script contains all the required features and API for you to run your business smoothly.
Our cryptocurrency exchange website Clone script with all its enhanced security features and API of LocalBitcoins Exchange. Localbitcoins Clone Script helps to achieve you to start your own localbitcoins exchange website that allows users to buy and sell cryptocurrencies and pay the respective person with fiat or other cryptocurrencies.
Talk To Our Experts
What Makes Our LocalBitcoins Clone Script Unique From Others?
Using our LocalBitcoins clone script you can offer your users a seamless experience while purchasing or selling their bitcoins on the platform. It has all the necessary ingredients built into it for running a successful Localbitcoins like a business.
As a prominent Cryptocurrency Exchange Clone Script Provider, Coinjoker offers Whitelabel LocalBitcoins Clone script Solutions with value-added features that act as a great platform to trade cryptocurrencies.
Talk To Our Experts
Frequently Asked Questions
Localbitcoins clone script has all the functionalities which are present in localbitcoins.com. You can start like localbitcoins with readymade clone script or you can customize your website with whitelabel solutions.
Our localbitcoins clone script has extra features like localbitcoins clone web development, localbitcoins clone mobile app development for both android and ios.
Any average people can become an admin for crypto exchange like locabitcoins and yield more revenue within 7 days. You build your website with more reliable and securable.
The cost is doesn't matter whether you need to build secure and user-friendly website. We offer minimum range of cost to build locabitcoins, and the maximum range depends on your additional requirements and features
Our localbitcoins clone script supports multiple ways to perform the trading process both via cryptocurrencies as well as fiat currencies.