Start a Conversation
Hi! Prakash is waiting to talk with you! Let's chat on WhatsApp
The team typically replies in a few minutes.
Opensea Clone Script - To Create a NFT Marketplace Platform similar to Opensea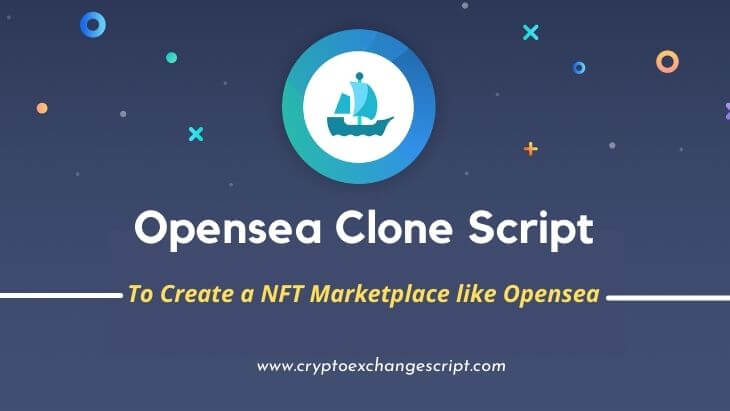 Opensea Clone Script
Opensea Clone Script helps to build a peer-to-peer NFT marketplace for rare digital items and crypto collectibles similar to opensea. Opensea Clone script creates a Non fungible marketplace platform to buy, sell, auction, and discover cryptoKitties, decentraland, Gods Unchained cards, blockchain game items, and more. Our customizable opensea clone script to trade with ERC721 or ERC1155 assets for free, and earn instant revenue on every secondary sale of your items.
Opensea Clone Software
Opensea Clone Software allows to build a openmarketplace that supports thousands of digital assests like game items, collectible art, titles to virtual land. We develop your 100% customizable opensea clone software as a excellence source of buying, selling and trading your digital assets.
Coinjoker - A NFT Marketplace Development Company offers opensea clone script with instant trade confirmation, increased scalability and zero gas fees options. We built OpenSea clone script with integrated Ethereum as a scaling solution which aims to remove costly gas fees, a sticking point for many of your new users rushing into NFT space.
Opensea Clone Script Features
Coinjoker provides opensea clone script with the high level of following trading funtionalities. The following opensea clone script premium features enables your valuable traders to make their transactions faster and more effective
⦁
Escrow Activity Specification
⦁
Wallet Preference Specifications
⦁
Ranking & Performance Statistics
⦁
Efficient Asset Listing
⦁
Simplified Design Architecture
OpenSea clone script is built with six special "status pills" located at the top of the sidebar similar to opensea
On Sale
OpenSea clone script has a option called "Onsale" shows many items that are not for sale. So, if your buyer, not a provider, click the "On Sale" pill so that only currently listed items for sale appear.
Has Offers
Opensea clone is enabled with "has offers" when your user click this pill, it will limit the search results to items that already have offers.
Pre-Sale
Opensea Clone enabled with "Pre-scale" option clicking this pill filters the search for pre-sale items. Suppose, Your buyers looking for in-game items that developers are selling before a game is released will be interested in this option.
Has Bounty
Opensea Clone script is designed with "has bounty" options where users can earn bounties by referring others to OpenSea listings.
Auctions
Opensea clone has the "Auction" This pill shows items on active English auctions.
Bundles
Opensea Clone Script is enhanced with "Bundles" this pill filters for listings with multiple items.
Opensea Clone Script Listing Fees Structure
Fixed Price Listings
Opensea clone script has the listing type like "buy it now" scenario similar to an Amazon listing. Your seller sets the price and keeps the item listed until it's purchased or the seller decides to cancel it.
English Auction Listings
English auction is simply like an eBay auction. Opensea Clone Script provides your users with a minimum price and hopes the bids climb so that he/she can accept the highest one. It also offers the reserve price feature to prevent a listing from selling too low.
Dutch Auction Listings (Declining Price Listings)
Opensea clone script is emebedded with Dutch auction, where sellers need to set a starting price, an ending price, and a duration. The strategy is to get the sale while the item is still above market price.
Opensea Clone Script Fees and Currencies
Fees
OpenSea clone script works similar to opensea, boasts that they have the lowest fees in the NFT space. They take 2.5% of the sales price. This fee is low in comparison to other platforms that take up to 7.5%. Also, there is no service fee for buyers, while others charge up to 3% on top of the sale price. Furthermore, traditional auction websites are known to take up to 12% of profits.
Other Marketplaces
Opensea clone script works as same as opensea where they gather NFTs from other marketplaces, you can still list them on OpenSea clone script so long as they're in your wallet.
Custom Currencies
OpenSea clone script has built over 200 payment options available. So, any of your users can change the crypto you'll accept when selling this includes stablecoins.
DAI and USDC stablecoins.
wBTC, which is an acronym for Wrapped Bitcoin.
MANA, which is Decentraland's in-game currency.
REVV and SAND are also in-game currencies.
MEME, which is part of the Meme collection.
WHALE, which is a social token.
Customized ERC20 tokens can also be added as an alternate payment option.
How to start with opensea clone script similar to DeFi DEX like Opensea?
Coinjoker creates you a reliable and secure opensea clone script by the way you can easily build your own native NFT marketplace for your non-fungible tokens, or NFTs. These can be ERC-721 or ERC-1155 (semi-fungible) items. Our blockchain experts build your inbuilt smart contracts so you don't have to deploy your own smart contracts or backend orderbooks.
OpenSea clone script uses called the "Wyvern Protocol." We create protocol is a suite of smart contracts that have been audited and battle-tested in real-world usage. The Wyvern Protocol enables users to swap state changes such as an NFT ownership state for a cryptocurrency ownership state.
Why to choose coinjoker for opensea clone script development?
Customized White label Solutions
Cross Platform Compatibility
Quick launch of NFT marketplace platform
Admin, User Dashboard Facilities
Secure Admin Panel
Plugin & API Integration Options Available
Maketing Support
24/7 Technical Support for NFT marketplace development
Tags :
opensea clone software
opensea clone app
opensea clone development
opensea clone script