Start a Conversation
Hi! Prakash is waiting to talk with you! Let's chat on WhatsApp
The team typically replies in a few minutes.
Poloniex Clone Script to start Cryptocurrency Exchange Platform like Poloniex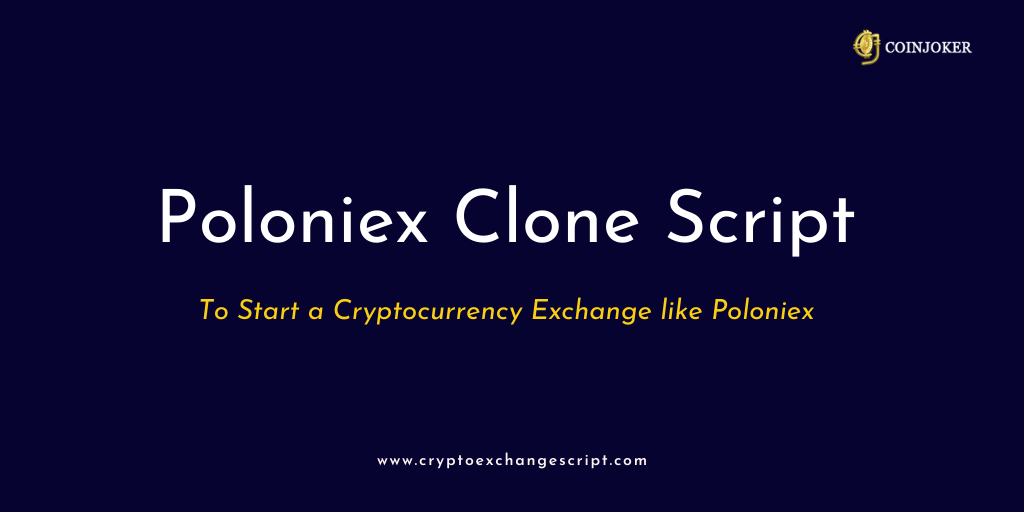 Plan to create bitcoin exchange platform like poloniex? Coinjoker provides reliable crypto exchange clone script to build crypto exchange with 60+ crypto assets. You can develop your website with connectivity with various banks and cards.
Coinjoker offers you a secure Cryptocurrency Trading script similar to Poloniex with a highly customizable Admin Panel & User-friendly User Panel.
What is Poloniex Exchange?
From 2014, Poloniex exchange have dedicated it's valuable work by giving traders and holders of a safe place to trade and store cryptocurrencies like BTC, ETH and the best altcoins on the market in the crypto exchange platform.
Poloniex is a digital asset exchange and trading . Poloniex is a type of exchange through which users can make transactions in different digital currencies around the world. In this way, Poloniex is very similar to any of an ever-increasing number of digital currency exchanges headquartered in various countries.
Poloniex has experienced numerous redesigns and expansions since its initial launch. The service now also provides technical analysis and user support in addition to its original trade functions, as well as an expanded range of trading features.
With the poloniex exchange platform, you can do cryptocurrency exchange and trading with the high end features like depositing and withdrawing using cards and bank accounts.
Poloniex exchange platform satisfies customers by various verticals:
Insured:
Poloniex exchange platform provides insurance coverage for the crypto assets on their exchange platform. Likewise coinjoker offers solution of building insurance in crypto exchange platform.
Security:
They are deeply committed to security and store a significant portion of customer funds in offline mode.
Responsible:
Binance take responsible to protect their customers and work with regulators and industry peers to set standards and best security practices.
Business Model: Centralized Cryptocurrency Peer to Peer Trading Solution
Supported Cryptocurrencies & Tokens: Supports more than 121+ Digital Currencies and from BTC and ETH to popular altcoins and cryptocoins for innovating various crypto projects [At the time of this article research]
Leverage: Poloniex offers trade on margin across a range of pairs to drive bigger returns (non-US only).
Innovation: Focus to create listing of newer projects like airdrops and forks. Coinjoker also helps to create this type of newer projects with the poloniex exchange platform.
Fast API's: Poloniex used by running smart algorithms and crypto trading bot for the better strategies to deliver better alpha.
Markets available on Poloniex: BTC Market, USDC Market (Added very recently), ETH Market, XMR Market, USDT Market
Buy & Sell Order Types: Market Order & Stop Limit Order
Trading Graph Features (For the Users to help on trading):
•
Candlesticks Trading graph with all possible indicators to check the deviations, etc
•
The volume of Trade completed
•
Cryptocurrencies price deviations
Lending Cryptocurrencies: Top 12 Cryptocurrencies
[Poloniex allows its Users to lend Cryptocurrencies for other users with different Interest rate]
Margin Trading: Margin Trading requires unique login to post a trade on margin trade with all major features of
Interested in launching your own Cryptocurrency Exchange with all the services of Poloniex?
Looking to customize the Poloniex Ready made Clone script with unique Business requirements?
Searching for the secure Ready made Clone solution similar to Poloniex?
Coinjoker is your one-stop solution provider for all your requirements for Poloniex Ready made Clone script.
Connect us in any of the instant communicating medium listed, we offer support for 24/7. Fill in your details in the below form to share the Poloniex Clone script demo for you instantly.
Contact details:
Mobile: +91 9791703519
Skype: live:support_60864
Email: [email protected]
Telegram : https://t.me/Coin_Joker
Messenger: https://m.me/Cryptoexchangescript
Disclaimer: Coinjoker never has control over the poloniex and their trade mark, also we are not doing any promotional activities for them. We are using the term "poloniex" for easy understanding and identification. Our products and services are not mean to harm any organization or individual.
Tags :
Poloniex Clone Script
Poloniex Clone Software
Poloniex Clone App