Start a Conversation
Hi! Prakash is waiting to talk with you! Let's chat on WhatsApp
The team typically replies in a few minutes.
Decentralized Finance (DeFi) Development Company - Coinjoker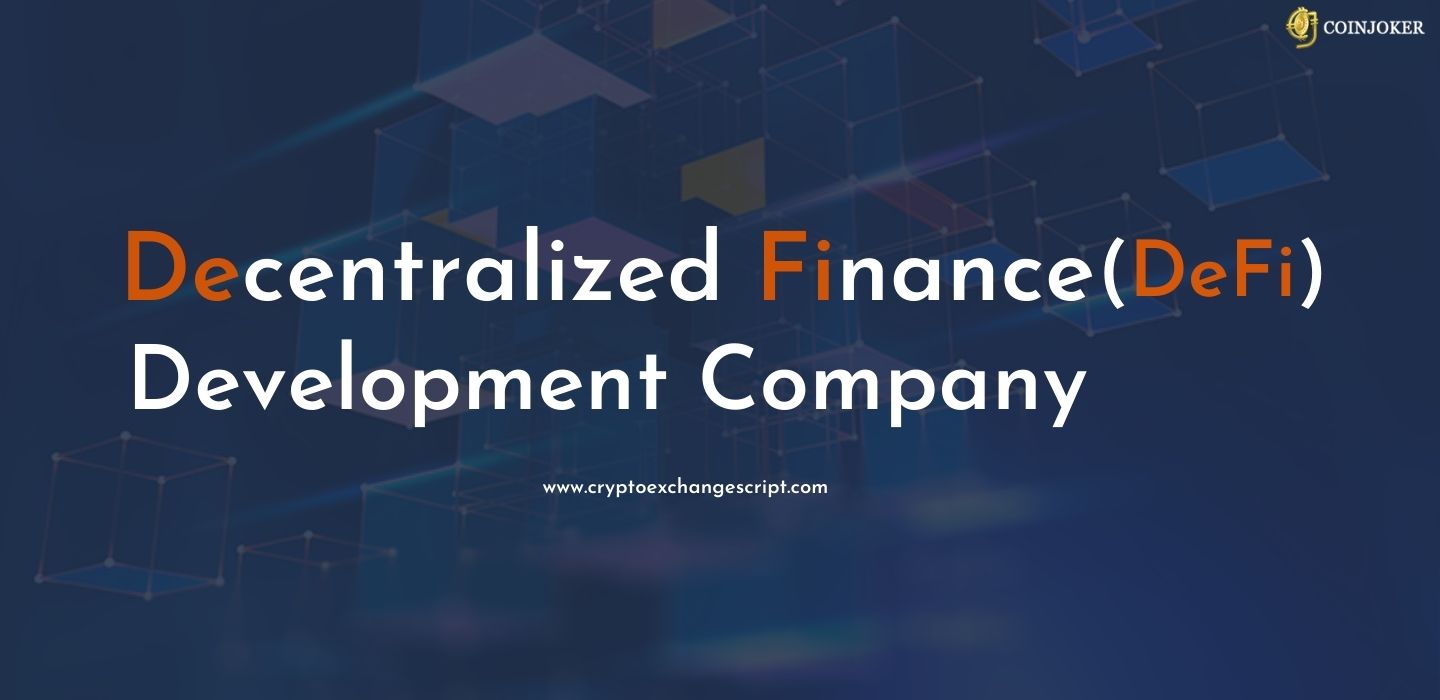 Decentralized Finance( DeFi) is nothing, but the process of combining the existing financial services into the decentralized ecosystem. Decentralized Finance is achieved by combination of Decentralized Applications(DApps) with smart contracts techniques acclerates the decentralized financial(DeFi) system with increased transparency, efficiency, scalability and security.

Coinjoker is emerging DeFi Development Company offers 360 degree defi development services and solutions for business, startups and entrepreneurs. We are 3+ years expertise in building blockchain solutions for various industries, business and enterprises. Now we enhance our business services to Decentralized one an gathering all finance companies with our ultimate and high performed decentralized applications.
Our Enrich Decentralized Finance Development (DeFi) Services

We provide below mentioned decentralized finance defi development services for various business sectors. We helps to build your business with the integration of DApp and Smartcontract techniques to avoid the tiny issues while your transactions.

DeFi Dapp Development

DeFi Token Development

DeFi SmartContract Development

DeFi Wallet Development

Decentralized Exchange Development And more



Majorly Our Decentralized Finance grounded projects are usually built on the Ethereum platform and put its standard default for blockchain for many Dapps are built on the platforms like Ethereum, EOS, Tron, Tezos, Cosmos and so on. Coinjoker provides DeFi applications in borderless manner that enables users with an internet connection and gain access to financial services and products.
What is Decentralized Finance?
A Simple and Quick Notes of DeFi:
- Open traditional financial services to everyone
- Provides a permissionless financial service ecosystem based on blockchain.
-A broader approach of decentralizing the traditional financial industry
-It provides a peer-to-peer financial network on blockchain
-Smart contracts and DApps works as a connectors.

How Decentralized Finance (DeFi) Works?



You need to know, Coinjoker's decentralized finance (defi) development services works for your financial sector with muliti layer security.

- Our DeFi Development Services works with various technologies like smart contracts,dapps, distributed ledger technology, ethereum, and blockchain technology to facilitate investors, savers, insurers, and offer user's transactions.

- Our smart contract is primarily defined with the set of codes written to predetermine the party's agreement and transaction, further executing automatically once met.

- Our Dapps are built across several nodes (computers) across the globe to serve users at different locations.

- Finally our Inbuilt Smartcontract and dapps makes seurity layer of your business and open to everyone and avoids the risk by trusting a central authority.
Benefits of Our DeFi Services for Various People in Finance:



1. Our DeFi financial (DeFi) applications development serves benefits by connecting investors, savers, borrowers, lenders, and the rest, technology, governance, and transparency.

2. Coinjoker's DeFi Applicarions also gives benefits to trading investment, wealth management, payment and insurance

3. Defi enables crypto users to invest, save, and transact on a blockchain managed system using cryptocurrencies.
4. Our DeFi services enables investors, holders, lenders, savers, alike to hold, trade, and transact digital assets

What are the benefits of Our DeFi Applications Development?



Our DeFi apps will mean a user will enjoy greater autonomy

DeFi Apps will bring a greater amount of transparency to your business

Everything is online and digital in Secure and Raliable manner

Enables peer to peer transactions eliminates third parties

Increases Automated Mechanism to increase your ROI.

Our DeFi Apps allows wider global access to your financial services.

Our Integrated DeFi Development Services makes Affordable Cross Border Payments

Coinjoker's DeFi Development Solutions avoids Data breaches and increases security and Privacy.

Brings Sense of Stability on Cencorship resitant transactions

Our Simple DeFi apps focus to create a smooth and intuitive user experience

​
Insant Support : Whatsapp | Telegram | Skype | Mail
Our Wider DeFi Development Services and Solutions:



Coinjoker's DeFi Development company offers wider ranger of services and solutions will enable to make access your decentralized finance world more efficiently ane effectively.

DeFi Based Lending and Borrowing Platform

These platforms use Compounds as a Decentralized Finance to find lenders and borrowers and connect them to each other where you can receive interest for lending your coins. It is done by a smart contract running on Ethereum network.

DeFi Smartcontract Development :

Our smart contracts enables high performance in executing financial transactions. It works under solidity-based, highly encrypted, and functions in an automated manner based on pre-set of rules.

DeFi DApp Development:

DeFi DApp Development benefits both interesting parties due to the removal of the middle party, both parties will not have to pay any fees it happens in more transparency and security way.

DeFi Token Development

DeFi token is a digital asset that is created, issued, and managed on a blockchain. Tokens are designed to be secure and instantly transferable, and they can be programmed with a range of built-in functionalities.

DeFi Exchange Development:

Current days DeFi gives space is to build exchanges where users can buy and sell their cryptocurrencies easily, without the need of any central platform. DeFi trade exchanges will link buyers with the sellers one place and eliminates middleman and fees.

DeFi Wallet Development:

In DeFi wallet you own your data: For example: MetaMask stores your seed phrase, passwords, and private keys in an encrypted format locally on your device so that only you have access to your accounts and data.

DeFi Uniswap Development

The Uniswap platform introduced an innovative mechanism known as Automated Market Making. This protocol enables near-instant settlement between parties. the protocol is set to close trades as close to the current market value as possible.

DeFi Guesser Development

The platform Guesser allows you to make predictions and examine the results of others in the pool. Critically, you even earn crypto for your participation. Simply put an amount with your prediction, if you are right, you earn extra crypto for your wisdom.

DeFi Gaming Development

Ethereum-based games have become a popular use case for decentralized finance because of their built-in economies and innovative incentive models.

DeFi Payment Development

DeFi payment solutions are creating a more open economic system for underbanked and unbanked populations and also helping large financial institutions streamline market infrastructure and better serve wholesale and retail customers.

DeFi Asset Tokenization & Issuance

Tokens are designed to be secure and instantly transferable, and they can be programmed with a range of built-in functionalities. From real estate security tokens that represent fractionalized properties to platform-specific tokens that incentivize the use of a particular DeFi application

DeFi Identity Management Development

Decentralized finance protocols paired with blockchain-based identity systems are an opportunity to help previously locked-out users access a truly global economic system.

DeFi Insurance Development

DeFi is still an emerging space with attendant risks around smart contract bugs and breaches. A number of innovative insurance alternatives have come to market to help users buy coverage and protect their holdings.
Onramp Based DeFi Development :
OnRamp built its business around building trust, data security and compliance. Its facilities meet a wide variety of compliance standards like HIPAA, PCI, SOX, FISMA and FERPA. Ormap gives more benefits of highly regulated industries like healthcare, finance or education.
OnRamp tokenises access to real assets. OnRamp tokens are simply said as the ERC20 tokens on the Ethereum blockchain.
Onramp functions on the two methodologies:
ERC20
OnRamp tokens are fully ERC20 compliant, with all of the benefits that adherence to this common standard brings.
Google Powered Wallet
Google account manages your Ethereum addresses. Experience easy onboarding through alliance with Hut34 - the world's first Google powered Ethereum wallet.
Coinjoker builds your Defi Development with financial product based like onramp.tech. Consult our experts to get an idea to build your defi platform like onramp.tech
Ramp Network with DeFi Development:
It allows users to buy crypto without leaving your dApp or wallet. It helps to Increase conversion in easy manner.
Ramp Swaps, that allows for trust-minimised, P2P swaps between fiat and crypto. It is the first step on our journey to a world where money flows freely between open and closed systems.
With Ramp, buyers and sellers no longer need to send their fiat money and cryptocurrency to an exchange choke-point in order to move value between the two worlds. They will be able to directly settle between each other. As safely as using decentralised, P2P exchanges. As conveniently as using current state of the art centralised exchanges.
Want to build your Defi Platform with Ramp Network? Coinjoker assists you to build your own network like Ramp based it could be more easy to access your digital assets.
Why to choose coinjoker for DeFi DApp Development?



Coinjoker - DeFi Development Company uses leverages key principles of the Ethereum blockchain to increase financial security and transparency to your financial industries and unlock liquidity and growth opportunities, support an integrated and standardized economic system.

Our DeFi developers can launch financial protocols and platforms that run exactly as programmed and that increases efficiency and scalability of your decentralized systems. We build DeFi Apps which reduce transaction costs, and enhance security all while providing users a seamless experience from anywhere in the world. Our DeFi Dapp Development Services will moves your economy forwards and receive a boosted Profit in the coming years