Start a Conversation
Hi! Prakash is waiting to talk with you! Let's chat on WhatsApp
The team typically replies in a few minutes.
UNISWAP CLONE - CREATE OWN DEFI PROTOCOL LIKE UNISWAP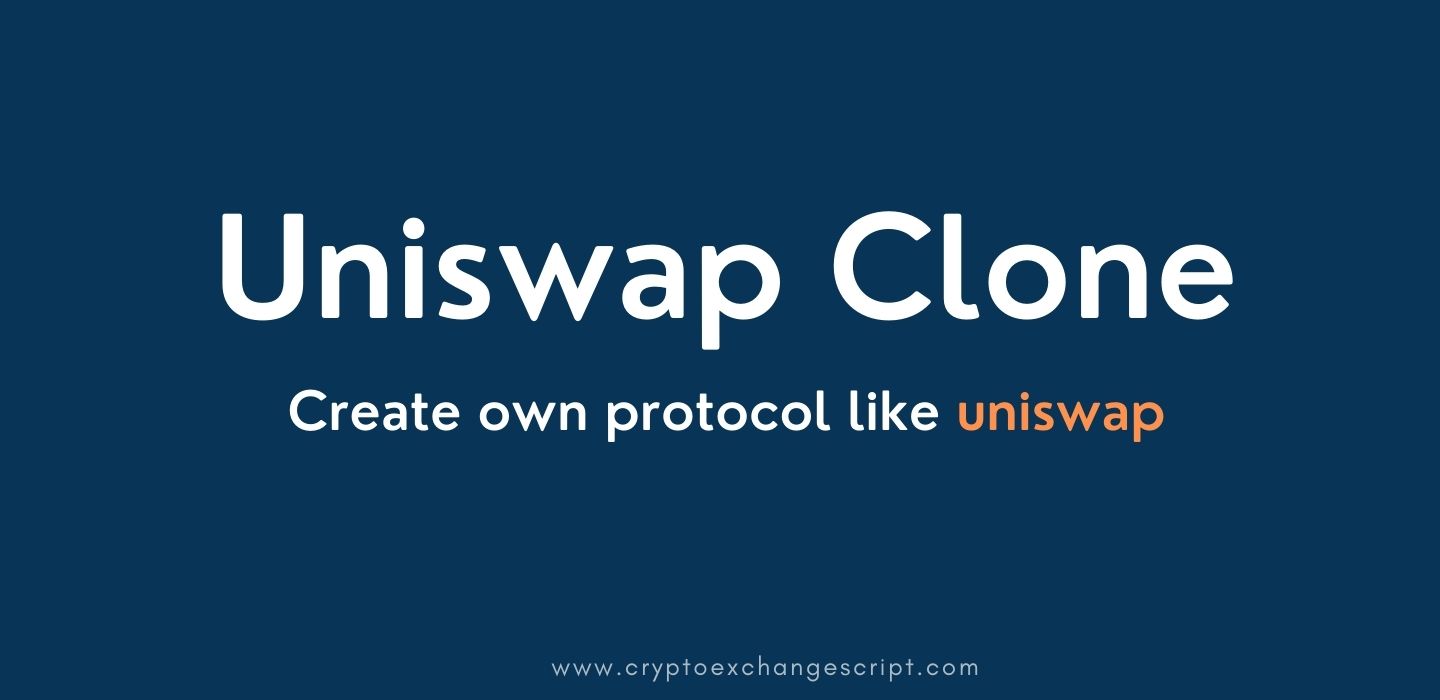 Uniswap Clone protocol is a fully decentralized automated protocol offering liquidity on ethereum like uniswap. Create own protocol like uniswap helps to make your crypto exchange as more Uniswap featured ecosystem and ready to easy token exchanges.
Whitelabel uniswap clone protocol is 100% decentralized and defi based protocol built to focus more complete and accurate data transformaion with our customized UI/UX design and enable to you buy and sell tokens like Uniswap's advanced iframe integration.
Coinjoker is a leading defi development company now make revolution in defi based projects like DApp, Smart contract, Lending and borrowing, Staking, Token creation, Yield Farming and Popular defi based protocols like Uniswap and Justswap.
Get A Free Demo of Create own Uniswap Clone Protocol and Exchange
Benefits of Uniswap Clone
Uniswap clone promotes your decentralized ethereum based protocol like uniswap. Check the benefits of our uniswap clone below
100% Decentralized Absence of Third Parties

Possibile to create exchange for any ERC20 token

Anyone can connect wallet easily to make exchange

Enable your New tokens that can directly access liquidity

Gain more profit by putting funds into the liquidity pool.

Builds afforble liquidity based exchange than other exchanges

Can be expanded/built upon it means custom pools have also be created.

Doesn't charge any listing fee due to decentralized
Uniswap Clone - General Functionalities
Uniswap clone is ethereum based protocol which is used to swap ERC20 tokens in fully decentralized way without need of buyers and sellers. Decentralized Platforms facing liquidity problems to overcome this issue, Uniswap clone can solve decentralized exchanges liquidity problem, by enabling the exchange to swap tokens without relying on any users for creating that liquidity.
Coinjoker's uniswap clone is designed for public goodness to avoid the intermediate fees between transactions. Our uniswap clone for the community trade tokens allows users to make exchange without platform fees or middlemen.
Features of Uniswap Clone Script
We've got implementated amazing features in the uniswap clone script.

Liquidity Provider specific pages and support

Data around holdings, ROI, etc

Data export (CSV)

Top LPs

Top performing pools

Live data for transactions and prices

More statistics, rankings, insights

Exchange health statistics
How does Uniswap Clone Script works?
Uniswap " A Constant Product Market Maker Model."
Our Uniswap clone scripts works as same as the name of productive market maker for all your crypto exchanges. Here we list out how defi based uniswap protocol works, and also how we built your protocol like uniswap(100% replica) or we append/add/alter the functionalities of uniswap clone as per you requirements.
Our uniswap clone automates market makers using smart contracts that have liquidity reserves (or liquidity pools) which makes traders can trade with it. These liquidity pools are listed by liquidity providers. Anyone can be a liquidity provider, who can deposits an equivalent value of two tokens in the pool. As a result, traders pay a fee to the pool that is then distributed to liquidity providers as per the share of the pool.
How to create own defi based protocol like uniswap?
Go to our Uniswap clone interface.

Connect your wallet. You can use MetaMask, Trust Wallet, or any other supported Ethereum wallet.

Select the token you'd like to exchange from.

Select the token you'd like to exchange to.

Click on Swap.

Preview the transaction in the pop-up window.

Confirm the transaction request in your wallet.
What is Uniswap Liquidity Pool?
Uniswap liquidity pool is a process of choosing the token that you want to swap out of, and the token you want to swap into. Liquidity pool also allows you to contribute to make swap of for ERC20 token, and therefore gain commissions in the form of exchange fees for doing so.
Uniswap Liquidity pool assembles tokens in a smart contract model, and users trade against the liquidity pool. Using Uniswap, anyone can easily swap tokens & add tokens to a pool to earn some fees. You can also list a token on Uniswap.
Uniswap Fees
Recently, Uniswap allots particular fee for signing up their platform, every one has consumed 0.3% of the transaction fees on the pools. Therefore, if you provide, say, 40% liquidity to liquidity pool then you will earn 40% of the transaction fee.
Our uniswap clone script has customized option for allocating fees in your ethereum based protocol. We have designed your platform with the customized transaction fee as per your needs.
Build Exchange With Uniswap Protocol
Uniswap clone script is developed by a new overview page with high level data about exchanges on Uniswap.It has detailed stats like 24 hour volume, total liquidity and daily transactions are now available at a glance. You have also listed the top exchanges sortable by price, volume, liquidity and more to help you explore different aspects of the most active pools.
How to Make Money Yield Farming on Uniswap?
In order to make money from Uniswap, all you need to do is become a liquidity provider. We've already detailed the steps in becoming one above so let's talk about how much you could earn.
The 0.30% fee is divided to all liquidity providers of a particular pool. For instance, if you provide 25% of the liquidity for FUN/DAI pools, you earn 25% of the collected fees. And these fees are added back into the liquidity pool.
Liquidity to the following Uniswap pools
ETH/USDT
ETH/USDC
ETH/DAI
ETH/WBTC
Types of Uniswap Versions
Uniswap V2 - Uniswap V2 is simply an improvement of V1. while the Uniswap V1 is built on Ethereum blockchain, the V2 is a separate blockchain.
Uniswap V1 - Uniswap V1 requires liquidity providers to deposit an equivalent value in ETH for every token they add to a pool. whereas, Unswap V2 is implementing ERC-20/ERC-20 liquidity deposits.
Uniswap Smart Contracts
Uniswap consists of 2 smart contracts — a "Factory" contract and "Exchange" contract.
Factory Contract - Factroy Contract displays Uniswap is 100% on-chain. The "Factory" smart contract contains an exchange registry, and a method to deploy an "Exchange" contract for a particular ERC20 token. An exchange can be created for any valid ERC20 token.
Exchange Contract - The Exchange contract can support any ERC20 token. But how do we set up an exchange for a particular ERC20. With one method call from the Factory.
Yield farming on Uniswap
Yield farming allows you to make more money with your crypto assets. To do that, you have to become a liquidity provider. Uniswap allows you to become a liquidity provider.
Uniswap has become a one of the most popular platforms for trustless token swaps due to its frictionless nature. This can come in handy for yield farming strategies.
In yield farming you can earn a portion of Uniswap's 0.3% trading fees on any ERC20 token pair by providing liquidity split 50% between ETH and 50% between the target ERC20 token.
Where to create own DeFi Protocol like Uniswap?
Coinjoker is a top leading defi development company experts in creating a decentralized ethereum protocol like uniswap. We create your uniswap protocol which is more secure and reliable. It displays your defi based exchange platform with dead-simple UX, earning from trading fees, price determination, historical liquidity, volume and price across across a number of timeframes.
We build you uniswap clone protocol with the above mentioned functionalities as well as customized option in your exchange platform. We assist you to build your defi protocol like uniswap from the scratch with the bug free solutions and constantly helps you to support and maintenance.
Get Free Live Demo For Uniswap Clone Protocol and Uniswap Exchange Clone
Tags :
uniswap clone
create protocol like uniswap
defi protocol like uniswap
uniswap clone script
uniswap clone software