Blockchain Solutions for Supply Chain Industry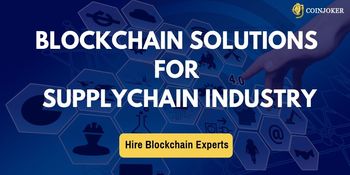 Aug 08, 2019
Searching for the best blockchain solutions for supplychain? Here, Coinjoker-Blockchain development company offers an trackable and traceable solutions for your movable goods and services !!
Blockchain has established its potential to bring out positive changes in many industries and businesses till date including the supply chain industry. In fact, the supply chain management is one of the most obvious and useful applications of Blockchain technology, therefore, we can expect it to grow at a very fast pace in the near future. The source of successful operation of a supply chain management system is to keep a robust, transparent and end-to-end communication.
What is supplychain management?
Supply chain management includes the end-end combined planning as well as the execution of variety of processes. This process involves mobility of different material flow, information flow as well as financial capital flow.
In simple words, The maintenance and the management of the flow of goods, services, and information involving the storage and movement of raw materials, manufacturing and building products as well as full-fledged finished goods which are moving from one point to another is called as supply chain management.
A supply chain is acting by the participation of a network of individual entities, organizations, businesses, resources as well as technologies that combine together in the manufacturing of a product or service.
Challenges facing in Supply chain management and its solutions:
Blockchain solutions can be implemented to face many challenges in the Supply Chain industry such as maintaining the complicated records and databases keeping and tracking of products, goods and services. Blokchcain solutions offers less corruptible and better-automated alternative ways for handling the centralised databases.
Provenance Tracking
Huge organizations have lots of elements in supply chain, so it's difficult to keep track of each and every record even for multinational corporations.
But the blockchain solution provides the way of easy tracking of the product information which is processed by the embedded sensors and RFID tags.
The accurate provenance tracking can be used to detect frauds in any section of supply chain.
Cost-reduction:
The real-time tracking of a product or goods in a supply chain with the help of blockchain solutions reduces the overall cost of moving items in a supply chain cycle.
The elimination of the middlemen and intermediaries in the supply chain saves the risks of frauds, product duplicacy and saves money too.
Establishing Trust
Having trust in complex supply chains with many participants is necessary for smooth operations. For example, when a manufacturer shares his products with suppliers, he/she should be able to depend on them for following factory safety standards. But, The immutable nature of blockchain in the supply chain is well-designed to prevent tampering and establishing trust between the users.
source: blockchain councli
Benefits of blockchain in supply chain management:
Blockchain solutions offers wider range of scalability by this any large database is accessible from multiple locations from around the world. Blockchain solutions also provides higher standards of data security and the ability to customize according to the data feed. Moreover, blockchains can be created in a private manner too which will allow the data to be accessed explicitly between the parties who have required the own permission for it.
Some other benefits of adopting blockchain technology in supplychain
Reduce or eliminate fraud and errors

Improve inventory management

Minimize transport costs

Reduce delays of time,effort from paperwork

Identify issues faster than manual

Increase consumer and partner trust
Where to buy blockchain solutions for supply chain management?
Coinjoker-Blockchain development company offers one stop solution for maintaining and tracking your records, database more securely and efficiently. Our blockchain experts provides consistent and reliable solutions for safer data sharing.
Our supplychain blockchain solutions in various business verticals:
Luxury and expensive goods

Food supply chain

Pharmaceuticals

Shipping and logistics

Electronics

Automative industry and more